This is a Sponsored post written by me on behalf of No nonsense. All opinions are 100% mine.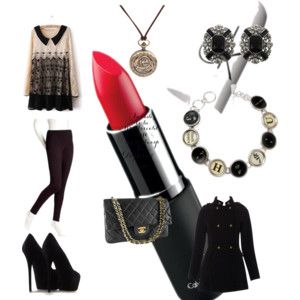 I love to dress Fun and Flirty and No nonsense makes it easy!!! Would'nt this be a great outfit to wear out for a fun date? No nonsense leggings and tights make it even more fun and easy. You could always wear there ivory colored or red with this fun outfit but I am a black dressing kinda girl and will use my pop of color for this outfit on my lips...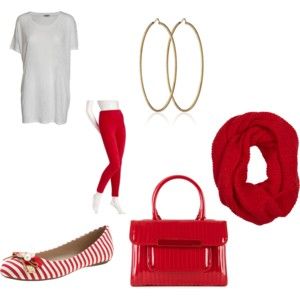 I love, love this fun outfit using all my POP on my legs from No nonsense in red!!! this outfit is simple yet stylish and No nonsense makes it easy with there fun colors of tights and leggings..... You can take OK dressing into fun stylish affordable dressing just by changing colors.... Watch this fun video and check out all there really fun colors..
When your ready to purchase some fun colors click here  No nonsense tights and leggings and find the store closest to you, it could even be your nearest drug store or favorite retailer. There tights and leggings are really affordable so there is no excuse not to have one in every color for fun fashion with all your outfits!!!!
I know you want to create your own outfit collage after seeing mine so go to WWW.polyvore.com to create your own and after having done so feel free to post your collection on my comments I would love to see your creation using No nonsense leggings or tights.  Be sure to like  No nonsense on Facebook and follow them on twitter @benononsense so you can keep up to date with everything going on with them.
I was checking out the No nonsense new press release and read all about there new partenership with  fashion expert Jill Martin she is going to be the new face of No nonsense, she is stylish yet practical and knows how to wear her clothes with fun and style. She will be heading up alot of fun things through social media as well providing fashion tips via Twitter and will be featured in a Facebook contest where the winner and a friend get to meet her in NYC for a shopping spree and lots of great style advice so be keeping your eye out for that...
I'm looking forward to seeing the outfits you come up with so please post them here I am excited to see how you use all the fun new colors of No nonsense.....